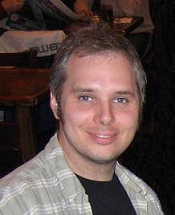 Welcome
On this site, I've placed information and resources related to my professional work.
Below are short descriptions of and links to these areas.
(There are also links to the various areas in the menu, to the left.)
Descriptions of the Areas of This Site
The Educational Research Seminar area contains additional resources for students in the section of EDD 630/631 I'm teaching at the College of Staten Island. Most materials for it are now in the BlackBoard site accessed through the CUNY Portal.
(Other classes I teach, including Statistics in Psychology, will be indexed here while I'm currently teaching them.)


I have posted information about current research projects I'm involved with in the Research area.


The Resources area contains resources concerning the development of pro-social behavior and humane education as well as stuff on a few other areas.
Contact Information
College of Staten Island
The City University of New York
2800 Victory Boulevard
Room 3s–207a
Staten Island, New York 10314
(o) 718-982-4130
(f) 718-982-3743
el.samuels@csi.cuny.edu